Latest News
Potage Parmentier - with Wild Ramps and Black Dog Belly Rub
Ingredients
5 pounds of peeled and roughly chopped potatoes - we mixed Yukon Gold and Red Skins
1 tablespoon of Grapeseed or Canola oil
5 cups veggie or chicken stock
1 cup heavy cream or half and half
1 heaping teaspoon Black Dog Belly Rub
5 thinly sliced wild ramps or 1 leek
Salt to taste
Instructions
In a medium saucepan, heat oil and saute' the ramps or leek.
Add roughly chopped potatoes and saute' until the potatoes begin to brown a little. If pan gets dry you may need to add a little more oil.
Pour in veggie or chicken stock and bring to boil. Reduce heat and put lid on and simmer until potatoes are soft. Mash with a potato masher and then blend until smooth with an immersion blender. Remove from heat and add cream and Black Dog Belly Rub. If you want to make it creamier, you can transfer to a blender but be careful cause its hot!
Garnish: Finely chopped chives, more ramps, could put a little shredded cheese and even bacon bits.
I recommend doubling or tripling this recipe and freeze some, its that good.
http://www.momsgourmet.net/2013/04/13/potage-parmentier-with-wild-ramps-and-black-dog/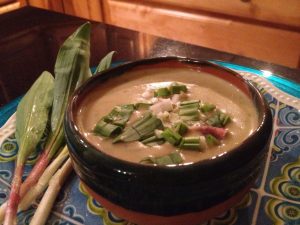 This is fast, easy and fantastic.
6 eggs
1 teaspoon Wow-A Chihuahua
2 chopped green onions or in spring use ramps.
1/2 cup shredded Colby/Jack or other Mexican blend
1/2 tablespoon EVOO
1/2 tablespoon butter
Tortilla chips – broken up not pulverized
Your favorite salsa
Wisk eggs and Wow-A Chihuahua in a bowl
Heat EVOO in skillet over medium heat and add onion, saute' for a minute or two. Add butter and when that is melted pour in eggs. Stir so they don't burn on bottom. When the egg mixture starts to thicken add the shredded cheese. Use a spatula to scape eggs from bottom of pan and stir. Then add the broken chips to egg mixture. When eggs reach your desired consistency, we like them soft and moist. Serve with salsa on the side and dust the top with some more Wow-A chihuahua. If you have avocado you can slice a little on top.
Optional: serve with a side of refried beans.